We try out all avenues for learning here- books, hands on, apps, websites,etc.. So when I got the opportunity to review CHSH-Teach.com I poked around and checked it out before I said "YES!". Right away I saw several things I knew that I wanted to use as a resource right away. They have a little bit of  everything like Bible, art, science, social studies, reading, writing pages, and more. I was instantly caught by some new spelling pages they had just added so I want to focus on that but there is much more to the site than that!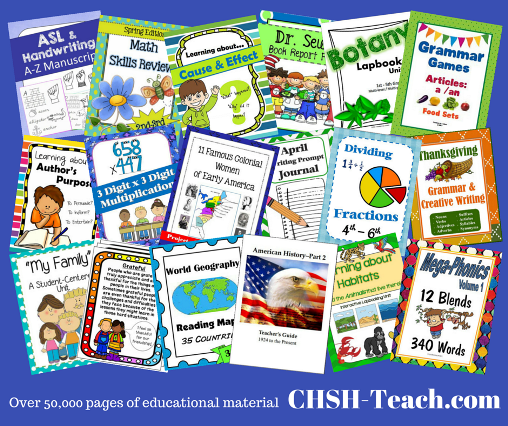 Christian Homeschool Hub Review
With the CHSH Download Club you have tons of great supplemental resources at your fingertips (more than 50,000 downloadable pages!) no matter what your core curriculum is, or you can create a curriculum from the printable resources they have available. You can easily search by grade level, subject, topic, or keyword to find what you need.What I needed most was a new spelling program to try, while I liked our current one it just wasn't working for my son and nothing was sticking. So the first thing I grabbed was the Spelling Unit 1-Second Grade to use in our first formal week back. I like having this tangible resource to add to our portfolio.
I loved the variety of worksheets, he got repetition every day with his 20 spelling words but it wasn't just the same route of practicing every single day.  There were about 10 sheets for the first lesson, you don't have to print them all, just the ones that you think will work for your child.  The unit came with a strip of 20 spelling words for each week as well as the activities I mentioned. One day the sheet was to write each spelling word 2 times, another listed all the spelling words with the vowels missing for him to write in, another was a row of jumbled up letters with a spelling word "hidden" within for him to find and circle.  The variety worked really well for him while still giving him structure and repetition. By the end of each week he has retained what he learned and is quickly gaining confidence in an area that we were struggling in.
While she is not quite ready for it I enjoyed the second grade so much and the lessons seem to stick so well that I have already printed the Kindergarten Spelling unit for my little girl. We also found some great people in history pages, holiday pages, seasonal pages.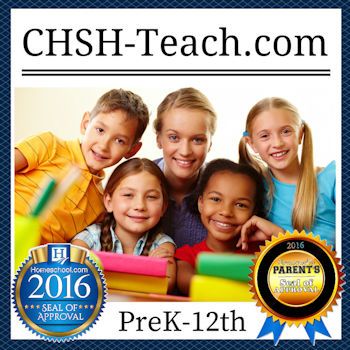 Find CHSH on all their social media channels below!
Facebook Group: https://www.facebook.com/groups/TheChristianHomeSchoolHub/
Facebook Page: https://www.facebook.com/ChristianHomeSchoolHubPage/
Twitter: https://twitter.com/TeachWithCHSH
Pinterest: https://www.pinterest.com/lyndaackert/chsh-teachcom-creations-by-lackert/
Google+ Group: https://plus.google.com/b/117967118184286217472/communities/108322787218266183941
Google Business Page: https://plus.google.com/u/0/b/117967118184286217472/117967118184286217472/posts
Linked-In: https://www.linkedin.com/in/lyndaackert
Tumblr: http://christianhomeschoolhub.tumblr.com/
I would love for you to go check them out (they offer some free resources) and come back and tell me what you think in the comments section below!
As always you don't just have to take my word for it, you can see what other homeschool moms had to say and take a closer look at other resources by clicking on the box below.