We are really enjoying our Notebooking Pages Lifetime Membership  from NotebookingPages.com  that we received.  I was completely floored at how much they have to offer and am delighted to have this great resource at our fingertips and I am sure you will agree it is a must have resource for your homeschool as well. Let's check out all that they have to offer below!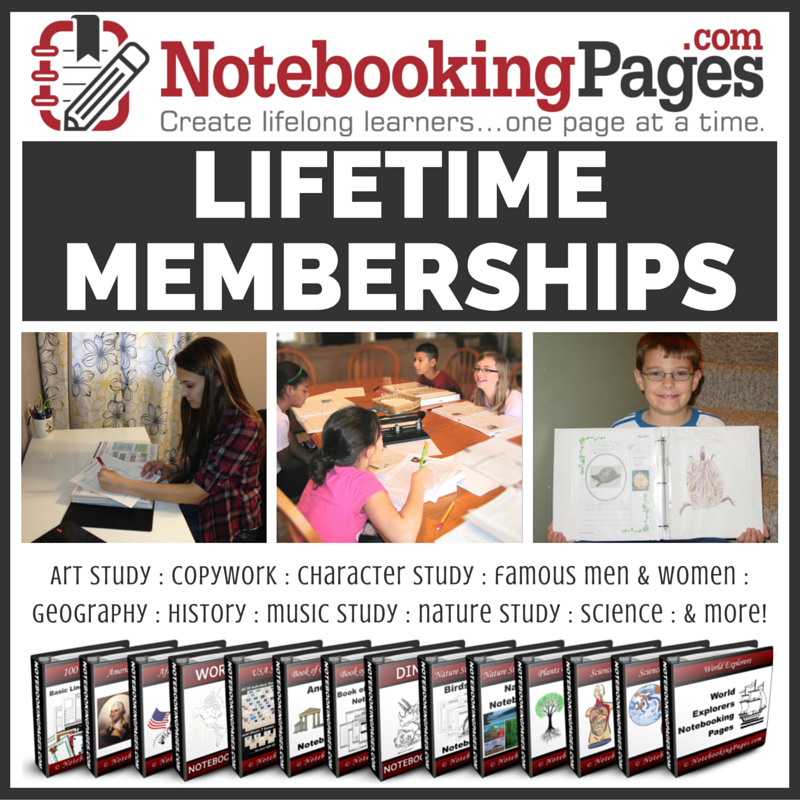 No matter what curriculum you are using the Notebookingpages.com Lifetime membership can be used to supplement, fill in the gaps, offer a change of pace, and enhance your childs studies. In the member center tab you will find that an easy start guide that takes you through supply lists as well as tips and tricks for  setting up notebooks. I found this really helpful as we had never done notebooking before and kind of needed a little hand holding! There are even videos to make it easier.
The printable noteboook pages are divided up into the categories below and offer journaling, copywork, drawing, and notebooking opportunities for a vast array of topics. No matter what your style of teaching and your childs style of learning you can use this lifetime membership to go deeper in a fun and flexible way!
Any Study-A huge variety of printables for blank layouts, clipart, minibooks, and basic lined pages that can be used for any study you are diving into.
A-Z- This is the Alphabet for little learners (who knew you could notebook with prek/kinder?) and is broken down into alphabet as well as A-Z animals, sports, and transportation- you are sure to find something for your little here!
Bible/Character- Bible notebooking and character study pages that are great for cultivating good personality traits in your children.
Famous People- Pages for first ladies, presidents, missionaries, composers, scientists, explorers, and more make a great addition to your studies.
Fine Arts-  Artists, picture study, composers, songs. I love the listening pages, here you listen to a piece of classical music and list the title, composer, date composed, style, and your thoughts. 
Geography – A fantastic resource for blank maps of the Continental maps, World maps, as well as USA and Country studies. Even geocaching notebook pages!)
History-Here you will find topical history studies and timelines for ancients to the modern times.
Holidays –Broken down month by month this is a fantastic way to incorporate holiday studies from Martin Luther King, Jr Day to Christmas!
Language Arts- Lined paper for spelling words, grammar pages, a spelling log, and copy work pages.
Science/Nature- If you love Charlotte Mason studies you may want to start here with the plants, astronomy, or nature study notebooking pages.
 You can get a fantastic overview of what they have to offer by signing up as a free member, they include a sampling of all the topics available on the site from science to Bible.
You can find them on Social media at :
Facebook: https://www.facebook.com/debrareed.notebookingpages/
Twitter: https://twitter.com/NotebookingPgs  @NotebookingPgs
I am not the only one enjoying my Notebookingpages.com membership, check out what these other moms have to say about it!